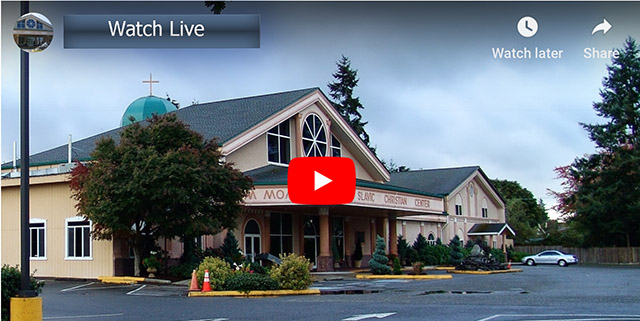 Live broadcast / Прямой эфир
Live services have been broadcasting on Sunday at 10:00 AM, Sunday 6:00 PM, Thursday 7:00 PM and Saturday 7:00 PM by Pacific Standard Time, USA.  / Собрания в эфире транслируются в воскресенье в 10 утра, воскресенье в 6 вечера, четверг в 7 вечера и в субботу в 7 вечера, по тихоокеанскому времени США. 
---
November 17, Sunday morning — A prayer will be made for the departments of our church. / Будет совершена молитва за отделы нашей церкви.
November 21, Thursday – Bible School Thanksgiving celebration at 7pm. / Праздник Благодарения Библейской Школы в 19:00.
November 28, Thursday – Thanksgiving celebration service at 10 AM. No Evening service at 7 PM and no Bible School service at 7 PM. Youth Thanksgiving iGather with LCC and UFGPC youth at 7:15pm. / Праздничное благодарственное собрание в 10:00. В 19:00 общего собрания и собрания Библейской школы не будет. Oбщение молодежи нашей церкви и церквей LCC и UFGPC в 19:15.
July 8-11, Wednesday–Saturday — Youth camp. / Молодежный кэмп.
August 20-23, 2020, Thursday-Sunday — Bible School Camp. / Кэмп Библейской Школы.
---
Weekly Services / Служения на неделе
Monday/Понедельник
Morning prayer/Утренняя молитва 6:45 am
Bible Study/Разбор Слова 7:00 pm
Bible School / Библейская Школа 7:00 pm
Prayer/Ревнительная молитва 7:00 pm
Tuesday/Вторник
Youth service/Молодёжное служен. 7:30 pm
Brother's prayer/Молитва братьев 7:00 pm
Sister's service/Сестрин. служение 7:00 pm
Elder's service/Служ. престарелых 4:00 pm
Wednesday/Среда
Youth choir practice/Спевка мол. хора 7:00 pm
SBS worship practice/Спевка СБШ 7:00 pm
Elder's service/Служ. престарелых 7:00 pm
Young family serv./Служ. мол. семей 7:30 pm
Thursday / Четверг
Prayer in pastor's office / Молитва 7:00 am
Prayer in pastor's office / Молитва 12:00 pm
Prayer service/Молитвенное служение 7:00 pm
SBS Service/Служение Библейской Ш. 7:00 pm
Friday / Пятница
Main choir practice/Спевка общ. хора 7:00 pm
Prayer group/Молитвенная группа 7:00 pm
Wind orchestra practice/Дух. оркестр 7:00 pm
Saturday/Суббота
Prayer for Israel/Молитва за Израиль 5:00 pm
Evening service/Вечернее служение 7:00 pm
Junior school/Подростковая школа 7:00 pm
Sunday/Воскресенье
Morning service/Утреннее служение 10:00 am
Sunday school / Воскресная школа 10:00 am
Молдавское Служ. 4-е воскр. месяца 3:00 pm
Evening service / Вечернее служение 6:00 pm
Russian school / Школа русского языка 6:00 pm
Church address
Slavic Christian Center, 2014 S 15th St, Tacoma, WA 98405
Contact Numbers
Peter Sayenko, Senior Pastor
253-627-6295
Sergey Zadniprovskiy, Secretary
253-209-9215
Emails
Administrator – administrator@slaviccenter.com
Audio/Video – audiovideo@slaviccenter.com
Slavic Christian Radio – radio@slaviccenter.com